Our Pocket Rosary Story
We used to be occasional Rosary prayers. We would pray the Rosary at the start of a long car trip, at vigils before funerals, when we (or a loved one) had a particular need to pray for… you know, special occasions. Praying the Rosary every day would be nice, but with our busy schedules, we just didn't have the time. And truthfully, we did not have the attention span.
Then Maximilian Mary came into our lives – Max was the little orange tabby kitten we adopted and named after St. Maximilian Mary Kolbe. Until Max was old enough to go outside on his own, we would put a harness and leash on him and walk with him in the yard as he explored his new world. Max loved to be outside, and if you are familiar with cats you know that they tend to meticulously check out everything. Needless to say this took a lot of time and gave us a perfect opportunity to say the Rosary.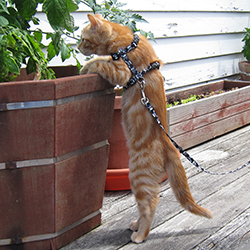 We had tried using a "memory rosary" in the past. It worked okay, but we found it to be a bit bulky. So for our walks with Max, we designed a smaller "pocket" rosary using a leather shoestring and small pony beads. It worked great, and thanks to our kitten we started saying the Rosary daily. Eventually Max was ready to navigate the great outdoors on his own, and we went back to our sporadic praying of the Rosary.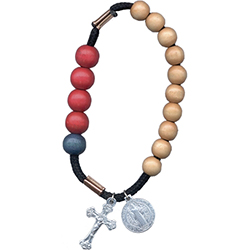 But that changed with the 100th Anniversary of Fatima. We subscribed to The Catholic Company's Fatima series, which included a 30-day novena with a daily Rosary. We decided after we completed the novena that we wanted to continue to pray the Rosary every day. The pocket Rosary we had used six years ago on our walks with Max helps us to achieve that goal. It's perfect for those of us who often don't have large blocks of prayer time. With the pocket Rosary, you can say portions of the Rosary throughout the day and not lose your place - it's designed so you can move the beads and keep track of which decade you are on and how many Hail Marys you've said.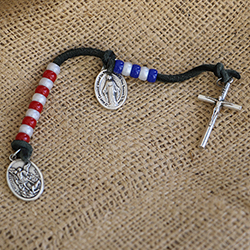 It's surprising how many opportunities there are throughout the day to pray when you look for them. Before you know it, you've said an entire Rosary. One of our favorite times to pray the Rosary is during our daily walk – it's a great way to get our spiritual and physical exercise at the same time!